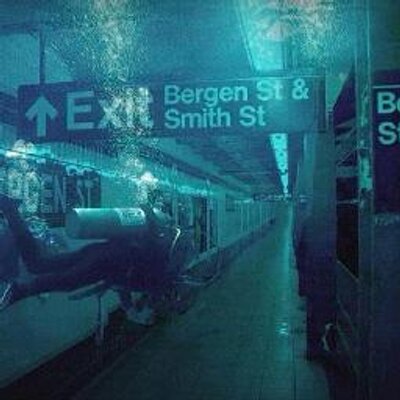 How do you manage the issue of consent when the character, Bo, is cast as "irresistible?" The line between consent and coercion becomes murky. Bo the Succubus's "irresistible" quality – the magic that makes her do that thing she do –  is a form of coercion, but at the same time a person's inability to resist Bo's mojo comes from within the person who finds him or herself on its receiving end. She makes you want her. So yeah, they're going for comedy here. Of course. And the idea that the man -Tad – was scared is really not meant to be taken literally, in my opinion. It's more like, Oh boy, will I be (literally this time) up for this? It's like when you see a wave that's a bit bigger than you're used to, but you really want to ride it. Adrenaline. The potential for awesomeness. I know that sounded totally like cheesy Lost Girl double entendre, but I swear, I really was talking about boogie boarding.
And I do think that gender and power dynamics in society are such that you cannot really, fully, make the argument that it's the same thing whether it's a woman or a man being "shared." I find Tamsin to be the most irritating character on Lost Girl, for the record. She was alright last season, and now she's back to Oh, I'm just mean and bitchy and more than a little petty at times, because, yo, that's my defense mechanism. Yet we are supposed to understand that her particular brand of feminism is to love 'em and leave 'em, as long as they're men. Which is BS, of course. Take what you want; f**ck who you want; don't get emotionally involved. In fact she herself is like a bro. Tamsin's main arc this season has to do with love though, so we'll see where that leads. Right now, it's a misguided crush on Bo and banging random dudes. I think it's a set up, and it's meant to lead to a kind of "rock bottom" moment when Tamsin realizes that she just can't go on like this anymore! Remember the interview in which Rachel Skarsten says something like it's love or destruction for Tamsin this season. No in between.
Mark is not some innocent virgin child. If I recall, he is the one who kissed Bo initially. He's a young heterosexual guy, living in a culture that encourages, even pressures perhaps, boys to have as much sex with as many partners as they possibly can (I am avoiding at least some gender/sex essentialism), and obviously he has the confidence to go for it. Younger men having sex with more experienced older women? Old, OLD (no pun intended), cultural trope! And recall: a few hours earlier Mark was feeding lines to that ill-fated young woman on the bus. Dude, he's Dyson's son, after all! A rogue, a rake, notorious throughout Europe. And the apple falls rather near to the tree it seems. Ok, not the most profound thing, but there you have it. In my opinion.  (Does anyone watch The Good Wife? I feel like I'm in front of that judge.) And anyway, as one  Canadian fan pointed out with regard to the episode, the age of consent is 16 in Canada. The US is among the few liberal democracies where it's 18. I was not upset by that plot point so much as I found it a bit cliched. Predictable. Of course Bo and Mark are going to sleep together. A little nod to Dybo, why not? (all sarcasm intended). And that was annoying because, as Sally asks in her post: what is the point of all of this? I too remember a time when Lost Girl had some interesting things to say about a ton of social issues, especially about gender and sexuality.
Obviously, Bo had no idea he was Dyson's son.
And finally about Doccubus… Well, it's still difficult to make the mental leap between 4×13 and this season. But yeah, clearly they are slowly rebuilding Doccubus. They don't want to give us too much too soon. But when? WHEN?? OK. Probably c. November 2015. 😦